Trio
Gender:
Male
Series:
Masked Rider of Mystica (Season 2)
Motif:
Robot, Masked Rider I
Rider Type:
Hero
Homeworld:
Mystica
First Appearance:
Last Appearance:
Number of Episode Appearances:
Actor:
Cyber Rider G3 (Former)
Cyber Rider G3-X (Current)
Cyber Rider G3 is a secondary hero used in the second season of the fanfictional series, Masked Rider of Mystica, using technology in place of the mystic nature of Masked Rider & organic nature of Mutant Rider. He's the first Rider to appear in the series. G3 was based on the original form of Masked Rider.
Biography
Trio is one of the Generation-3 Cyber Riders, alchemically-engineered androids that were created to lead the soldiers of Mystica against Lord Stagger's Homonculi Armies. 

Later Appearance
War of the Heroes: Riders vs. Rangers
Generation-3 System
G3
Statistics & Performance Data:
Head height: 192 centimeters
Base weight: 150 kilograms
Punching power: 1t
Kicking power: 3t
Highest jump: 10m (broad)
Top speed: 100m/10s
Vision: 5 km approx.
Hearing: 5 km approx.
Defense Rating: 8
G3-X
Statistics & Performance Data:
Height: 192cm
Weight: 176kg
Punching Power: 2.5t
Kicking Power: 7.5t
Highest Jump: 20m
Top Speed: 100m/8s
Vision & Hearing: 15km approx.
Defense Rating: 10/10
G4-X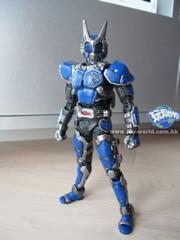 Height: 198cm
Weight: 180kg
Ability perimeters
Punching Power: 3t
Kicking Power: 8t
Maximum Jump Height: 22m
Maximum Running Speed: 100m/7.5s
G4-X is the upgraded version of the old G4 system. Not much is known about this other than it being a form exclusive to the video game. Designed to destroy the rampaging Cyber Rider G1, the suit became more similar to the G3-X system, putting less of a strain & damper on the wearer & sporting a blue coloring instead of black & gray. 
G4-X was essentially Trio in the G3-X armor, but due to damage to it's helmet from his battle with G4 the G4 helmet was used.
Equipment
Trivia
9 years later, there will be a red rider with the same shape of the horns.
See Also
Ad blocker interference detected!
Wikia is a free-to-use site that makes money from advertising. We have a modified experience for viewers using ad blockers

Wikia is not accessible if you've made further modifications. Remove the custom ad blocker rule(s) and the page will load as expected.