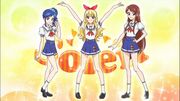 "Soleil☆Rising!"
―Soleil's group catchphrase, first heard as the title of Episode 87
Soleil (ソレイユ, Soreiyu?) is an idol unit made up of three students from Starlight School, created to ensure the academy's success and existence. The group consists of Ichigo Hoshimiya and Aoi Kiriya, and the two are later joined by Ran Shibuki after she leaves Tristar. Ichigo and Aoi came up with the name of the unit, Soleil, (meaning sun in French) and was made to counterpart the moon thematic of Mizuki Kanzaki's idol group, Tristar. A duel tournament between the two units was held by Data Carddass Aikatsu! from June 21st to July 28th, 2013, and was won by Tristar. In Super Hero Taisen X, the Soleil trio will sing their version of Anything Goes!, the OP of Kamen Rider OOO.
Members
Ad blocker interference detected!
Wikia is a free-to-use site that makes money from advertising. We have a modified experience for viewers using ad blockers

Wikia is not accessible if you've made further modifications. Remove the custom ad blocker rule(s) and the page will load as expected.