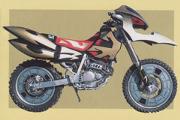 The Shadow Chaser is Heart Warrior's personal motorbike. Normally in the form of a normal (Honda XR250) motorbike, only upon transformations does the Shadow Chaser appear. The Shadow Chaser served as the basis for the BOARD Rider bike technology, which enables the Rider to augment certain aspects of the bike's performance with Rouze Cards.
Performance Modes
Tornado Chaser

Cards Required: Tornado Hawk (♥6)
This performance mode is activated with the use of the ♥6: "Tornado Hawk" card. Once 'roused', the Shadow Chaser generates a high-gale wind barrier which properly defends against offending enemies.
See Also
Shadow Chaser - Kamen Rider Blade counterpart at Kamen Rider Wiki
Ad blocker interference detected!
Wikia is a free-to-use site that makes money from advertising. We have a modified experience for viewers using ad blockers

Wikia is not accessible if you've made further modifications. Remove the custom ad blocker rule(s) and the page will load as expected.