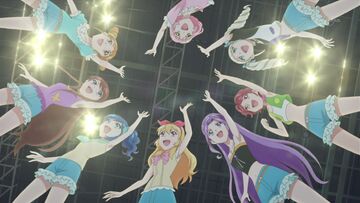 "STAR☆ANIS... start!"
―STAR☆ANIS's group catchphrase in the anime, first heard in Episode 41
STAR☆ANIS is a Japanese idol music group who provided the songs for both the Data Cardass Aikatsu! game, as well as the anime adaption for it.
In the related anime series itself, the members consist of the eight main characters.
Members
Trivia
As mentioned earlier, prior to the respective episodes airing for the Aikatsu! anime adaption, it was hinted in one of the second ending pictures that the eight main Starlight Academy characters would be grouped under the name of STAR☆ANIS.

This was confirmed in Episode 39 and Episode 40 when the idol units Tristar, Soleil, and Powapowa-Puririn were merged together by Orihime to become a temporary unit called STAR☆ANIS (during a press conference to formally announce the summer tour featuring them).

As heard on many songs she sang, Risuko's voice appears to has many variations, there is a rapid change between Midnight Skyhigh or Thrilling Dream with other songs she sung or anime insert versions (except Midnight Skyhigh and Thrilling Dream).
The name and logo of the idol unit STAR☆ANIS is based on a shrub or a tree called Star anise. It is used to spice up certain Asian food.
Ad blocker interference detected!
Wikia is a free-to-use site that makes money from advertising. We have a modified experience for viewers using ad blockers

Wikia is not accessible if you've made further modifications. Remove the custom ad blocker rule(s) and the page will load as expected.