Ryu Matsumoto [formerly: Kyle Hikari]


Kamen Rider Phoenix
Planet
Ventara
Age
21
Birthdate
??
Height
6'5"
Weight
??
Gender
Male
Species
Ventaran
Affiliation
Dark Kamen Riders
Team
Dark Kamen Riders-Team Nega
Occupation
Dark Riders
Family
Advent Deck
Phoenix Deck

Advent Beast
Goldphoenix
History
This is the Primary antagonist in Kamen rider Another Path, he stole the Goldphoenix Deck and 5 others to create his Dark Kamen army. he was Yue's Older Brother before an accident caused him to spawn a dark persona that eventually took him over.
Kamen Rider - Phoenix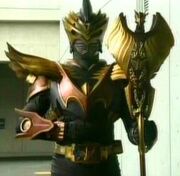 Advent Cards
Gold Visor: The Gold Visor is Wrath's card reader (scepter).
Sword Vent: (4,000 Attack Points) Summons Gold Saber (pair of sabers).
Final Vent: (10,000 Attack Points) Goldphoenix is summoned and lifts Wrath up into midair, Wrath then body slams to his opponent (Eternal Chaos)...
Survive Mode: Upgrades Phoenix to Survive Mode. Phoenix holds out his Survive Mode Card - The Card activates, fire forms around Pheonix, an energy field is generated, flames swirl up and the Goldvisor upgrades to Goldvisor Zwei (a Scepter), Phoenix inserts the Survive Mode Card into the slot of the Goldvisor Zwei and closes it, and his armor changes form. Goldphoenix upgrades to Dawn GoldPhoenix
Ad blocker interference detected!
Wikia is a free-to-use site that makes money from advertising. We have a modified experience for viewers using ad blockers

Wikia is not accessible if you've made further modifications. Remove the custom ad blocker rule(s) and the page will load as expected.