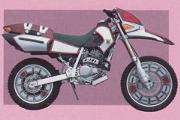 The Red Rhombus is a motorbike developed by B.O.A.R.D. specifically designed to the aspects of Diamond Warrior's Rider System. 
Performance Modes
Fire Rhombus
Cards Required: Fire Fly (6)
This performance mode is activated with the use of the 6: "Fire Fly" card. Once 'roused', the Red Rhombus generates a fiery aura which fends against obstacles. (Never used in series.)
See Also
Red Rhombus - Kamen Rider Blade counterpart at Kamen Rider Wiki
Ad blocker interference detected!
Wikia is a free-to-use site that makes money from advertising. We have a modified experience for viewers using ad blockers

Wikia is not accessible if you've made further modifications. Remove the custom ad blocker rule(s) and the page will load as expected.