"Powapowa-Puririn! Powa-ring up!"
―Their group catchphrase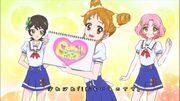 Powapowa-Puririn (ぽわぽわプリリン, Powapowa-Puririn?) (stylized as Powa×2Puririn!!!) is an independent idol unit made up of students from Starlight School. The group consists of Otome Arisugawa, Sakura Kitaōji, and Shion Kamiya.
Members
Songs
Powapowa Puririn has yet to have their debut live with their own song. However, they have a tentative debut song written by Otome:
  ぽわーんぽわーんぽわわわ~ん
  ぽわーんぽわーんぽわわわ~ん
  リズムはポップコーン ポンポンはねるポップコーン
  メロディはうきうきポップキャンディー
  きぶんはうきうきポップップ
  ハーモニーはやさしいチョコレート
  とろけるかおりのチョコレート
  ステキなものをいっぱいあつめて
  好きなものをいっぱいあつめて
  せかいをぽわぽわでいっぱいにしよう!
  ぽわーんぽわーんぽわわわ~ん
Etymology
ぽわぽわ and プリリン are not regular Japanese, but Otome-language so to call. ぽわぽわ and プリリン can be said kinds of onomatopoeias.

ぽわぽわ means lightly, softly, a nice and warm feeling.
プリリン means pop, a fresh and jellylike feeling.
That is, ぽわぽわプリリン means a sweet and happy feeling (when girls eat delicious sweets).
Anime
STAR☆ANIS involvement
In the anime series, the Powapowa-Puririn unit was called upon by Headmistress Orihime of Starlight School to join STAR☆ANIS after Tristar and Soleil were merged for the planned summer tour. During a press conference held by the unit, Shion announced that she declined the offer to join STAR☆ANIS for their summer tour to focus on her acting; however, she would still be a part of Powapowa-Puririn.
Current Activity
During the time Ichigo Hoshimiya was in America, their carefree, easy-going nature won them the hearts of many fans. The unit also has a televison program named after them. As of the current Season 3 arc, it is unknown if they are continuing to work as a unit, but it is assumed they still are.
Ad blocker interference detected!
Wikia is a free-to-use site that makes money from advertising. We have a modified experience for viewers using ad blockers

Wikia is not accessible if you've made further modifications. Remove the custom ad blocker rule(s) and the page will load as expected.