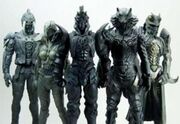 An Orphnoch is a human evolutionary stage seen in the Kamen Rider 555 series. Orphnochs are supposed to be the next stage in human evolution. They are stronger, tougher, & faster, with various other special abilities. The term Orphnoch is the combination of the names of Greek mythological hero Orpheus & biblical character Enoch.
Background
There are two types of Orphnochs in the most of series: the Original Orphnochs, who are "born" when a certain human goes through a violent near-death experience & 'resurrected' into an Orphnoch, & Sired Orphnochs that are created when certain humans survive being attacked by an Orphnoch & become ones themselves, though weaker than the Original Orphnochs. But the most unique of type that appear in the series finale are the Evolved Orphnochs, the first of this type is the Orphnoch King, which are genetically perfect to the point of being unable to resume human form. An Orphnoch King can remove the genetic flaw from other Orphnochs, evolving them as well at the cost of their humanity.
All Orphnochs have their senses enhanced to a superhuman level, able to hear, smell or see great distances, tuning out background noise to focus on their target. They can also regenerate an ability as well as a first sense when the Orphnoch survived its human death, with the regenerating abilities depending on the Orphnoch in question. The stronger Orphnochs may fire energy blasts from their hands, though used a surprise attack due to its attack speed being slow & inaccurate for long distance attacks. But the Orphnochs' greatest ability is to 'siring' other Orphnochs (similar to Vampires or Werewolves) by attacking humans & (usually) stabbing them through the heart. This has a very low success rate, & usually results in turning the human into stone in question. Some Orphnochs seem to be capable of using long, skin piercing tentacles specifically for siring others. However, most cases of siring occur when the "sirer" is in Orphnoch form.
Every Orphnoch can interchange between their original human form & a unique Orphnoch form, light grey in colour with characteristics of either a plant or an animal with a body armour resistant to standard small firearms blasts & its strength varies wildly among Orphnochs as good measure of one's power. Only more powerful conventional weaponry can penetrate the body armour & harm or even kill some Orphnochs, while others can withstand even the basic attacks of the Rider Gears. Orphnochs can also generate signature weapons from their bodies. While in Orphnoch form, some of their kind can assume a Hybrid Form, becoming more creature-like in form. Few Orphnochs can assume a Secondary Form, increasing their standard Orphnoch form abilities at the cost of losing self-control. An Orphnoch can change their shadow into a hologram of their human form.
It is uncertain when or how Orphnoch die or lose their powers of natural causes due to the infinite lifespan, but they are almost invulnerable to just about untimely demise ranging from various injuries that would be fatal to humans. In addition, their wounds recover quickly; Orphnochs can be seen injured when (a) small blue flame(s) burst(s) from their wound. Unfortunately, it seems that they can only be destroyed at the hands of a Rider or another Orphnoch; possibly because they're powerful enough to defeat or kill them, often disintegrating back to a human as a result. This would also result with their stone-turned hosts turned back to normal.  
Former chief of Smart Brain, Luther, learned a revelation that only few Orphnoch know of, that "the human body cannot stand such a rapid evolution", & that as such, they were doomed to die of inevitable break down & disintegration within any number of years of becoming an Orphnoch depending on their transformation into & out of Orphnoch form or use of the Rider Gears, which takes an amount of time from that person's lifespan. Others, however, have exhibited signs of early disintegration (the process starts with the skin turning grey, & slightly ash-like, before their entire body is destroyed) but subsequently showed a recovery. The only known solution to this problem is the Orphnoch King, who can "complete" Orphnochs' evolution, apparently forcing them to remain in Orphnoch form, but granting long life & a higher level of power.
Although the Orphnoch King was defeated in his final battle against the Kamen Riders, Orphnochs no longer seem to suffer a limited lifespan.
Orphnoch List
Orphnoch King
The Orphnoch King is of a special type who possesses the power to "complete" Orphnoch evolution, removing all traces of humanity in the process while granting long life. Unlike others, the Orphnoch King can disintegrate them instantly. The Rider Gears were originally created to protect the Orphnoch King.
Abner Bell/Arch Orphnoch (Grasshopper): An anti-social young boy who was orphaned when his parents died in a fire caused by the Barnacle Orphnoch. Abner was placed in the Age of Discovery Children's Home orphanage run by Smart Brain until Saral took him to his home & later stayed & lived in Kendrick's laundry mat. Soon, Abner began to act strangely & was eventually revealed to be the Orphnoch King. Whenever Abner blacks out, the Orphnoch persona emerges from his shadow to consume the lifeforce of Orphnochs, in which to fully mature. After being taken by Carter, Abner eventually transformed completely into the Arch Orphnoch. Fully awaken, the Arch Orphnoch fully evolved Anissa after beating Phi. It took Carter's sacrifice & Phi Blaster Form's Blaster Crimson Smash to defeat the Arch Orphnoch. But Arch Orphnoch barely survived & was mortally wounded, placed in the stasis tank under Smart Brain by Anissa.
Renegades
Renegades are Orphnochs that not aligned with Smart Brain, and each follow their own agenda. Most Renegades wish to continue with their normal human lives, thus they are branded as traitors that deserve death. Some use their new found powers to kill people who have wronged them (in real or imaginary ways), while others fight to protect humans.
Horse
Main article: Carter Womack
Crane
Violet Dean is a teenage girl whose desire is to go to a place where there is no fighting. Originally a normal human, Violet was bullied terribly by her younger half-sister Calla & other girls in her school's female basketball team. The bullying worsen as Violet's parents favoured Calla over her, with only her messaging to Kendrick keeping her happy. However, the extreme emotional stress Violet suffered from caused her to fall down the snow covered stairs, leaving her unconcious & thus reawakening as the Crane Orphnoch. Though she attempted to use her power to help, it backfired when Calla had her as a scapegoat for her injury & having Violet kicked out of the family as a result. But when the mistreatment got worse after the school basketball team teased her for the last time, Violet finally "snapped" & single-handedly knocked out the entire girls basketball team, including her sister. Horrified of her actions, she runs out of the school, disgraced, & soon meets Carter, who joins her in learning of their new-found existence. Though she agrees with Carter's ideals of protecting humans, Violet occasionally attacks humans who seem bad (bullies, etc.) on reflex without others knowing, a habit that would eventually gain interest by Lucky Clover. She exchanged e-mails with Kendrick to a lesser extent after becoming an Orphnoch, as she later developed a strong crush on Saral, though he did not reciprocate. Eventually she & Kendrick come to realize who the other was, & they had a brief relationship before she was weakened by police's shots & escaped Anissa though Violet was unable to assume Orphnoch form. At the end of the series, Violet was impaled by the Elasmotherium Orphnoch.
SPECIAL NOTE- the second version of Crane Orphnoch's design is also dramatically different than that of the first. The shape of the crane head design has a more feminine look as the face is more human-like. Her winged collars are also extended & protruding upward in a flying pose. One more significant change is the addition of crane-like legs that appear in place of the original Orphnoch-humanoid legs during Crane Orphnoch's flight.
Snake
Main article: Saral Seymour
A company that is a front for a group of Orphnochs that sees themselves as the master race & are dedicated to the genocide of the human race & increase of the Orphnoch population. They experiment in making their race even more powerful & developing weapons that only Orphnochs can use. This is the largest coordinated group of Orphnochs ever seen, & near the end of the series, they seem to have formed a de-facto world government after the Orphnoch Revolution.
Jordan Midgley/Rose Orphnoch: The temporary president of Smart Brain after Edmund Porter's death. Midgley was the one who assigned Lucky Clover to do his dirty work until Luther took back the company & gave control to Carter Womack. Despite losing his place in Smart Brain, Midgley had a trump card in the Orphnoch King, whom he had waited for & learn of his human host. To that end, Midgley attempted to abduct Abner, fighting the Riders on his own & barely escaped their attacks. In his weakened state, Midgley offered his life to Abner to awaken the Arch Orphnoch so he can correct the Orphnoch's genetic instability. Afterwhich, Midgley somehow ended up decapitated & his head is kept alive in a tank until it was smashed by Smart Lady under orders for his failure in the end. He never had the chance to turn into a 'Rose Head' Orphnoch, dying with a loud scream.
Smart Lady: Smart Brain's "mascot", she works closely under the company's chief & helps fledgling Orphnochs. She never exhibits Orphnoch powers in the series, & her species is left ambiguous despite her association with morpho butterflies. She acts friendly & playful towards the many workers at Smart Brain, although she doesn't realize that no one enjoys her company.
Edmund Porter/Squid Orphnoch: The temp head of Smart Brain, Porter uses a staff that he uses to Sire & can move in a blink of an eye. Originally tracking down the Phi Gear until it came to the city, Porter was reasigned by Smart Lady to educate Carter & Violet in the nature of Orphnochs. After the two refused to Sire, Porter goes on siring rampage starting with Saral until he sees Nathan & Maria. After chasing them down, Porter is fatally injured by Phi's Crimson Smash, dying after telling Carter & Violet their final lesson.
An elite quartet of Orphnochs within Smart Brain who are "cream of the crop"; in other words, elite assassins, & answer to the Chief. Only two of the original four survived.
Minor Orphnochs
Gallery/Orphnochs
See Also
Orphnoch - counterpart at Kamen Rider Wiki
Ad blocker interference detected!
Wikia is a free-to-use site that makes money from advertising. We have a modified experience for viewers using ad blockers

Wikia is not accessible if you've made further modifications. Remove the custom ad blocker rule(s) and the page will load as expected.