This Is The 5th Episode Of Kamen Rider Spark.
Story
At a Cementery, Ryoma Put Flowers and Candles on Kazari's Grave. Then, Rain Come Down. Kazari's Battlenizer Monsters Was Crying. At another Planet, Kazari Was Revived By The Alien Babarues But Kazari Skin Ripped and Turn Into Gold But We Did Not Saw He Face. When His Eyes Open, His Became Red All Over and Became Bigger. Meanwhile, Kamen Rider Sixteen Was Rapanging The Tempura Restaraunt. Flame Run Sixteen Over With The Purple Coulored Train. Flame Transform Into Coal Star and Fight Sixteen.
Meanwhile, Many Births Was Destroying Kazapark. Ryoma Came To Fight Buy Himself. Births Turn Into Birth Buster and Almost Destroy Ryoma But Then, A Teenage Girl Named Maya Kurenai Came. Ryoma Said To Maya To Get Out From Here. Maya Transform into Kamen Rider Emperor. She Destroyed All The Births. She Said "Where is Kazari?". Ryoma Said "He Died. The White Wizard Took His Soul". Maya Said "You, Kazari Is Not Dead. A Greed Will Not Die Until He Serve His Desire. Kazari's Desire Is To Destoy Sixteen and Become The Warrior Of The Darkness." Ryoma Was Suprise.
In A Parking Lot, Kazari Came Back.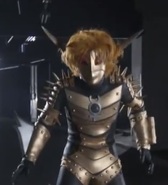 Episode Line
Last Episode: Kamen Rider Spark Episode 4: The Fake Rider and The Death Of Kazari
Next Episode: Kamen Rider X Kamen Rider: Spark & Gaim: Movie War Legend Gate ft. Gokaiger
Ad blocker interference detected!
Wikia is a free-to-use site that makes money from advertising. We have a modified experience for viewers using ad blockers

Wikia is not accessible if you've made further modifications. Remove the custom ad blocker rule(s) and the page will load as expected.