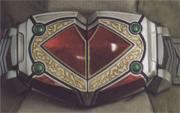 "Change!"
―Transformation announcement
The Heart Rouzer is a unique transformation device bestowed upon the Joker Undead. When Rouzed with the Mantis Undead, he becomes Kamen Rider Heart Warrior. The full extent of its power is unknown, but the Heart Rouzer is capable of reproducing the DNA of sealed Undead & mimic their forms with frightening accuracy, as well as their respective powers & abilities. Further adding to its uniqueness, is that the Heart Rouzer utilizes the "Swipe" function, which became the template for the Rider System's "Rouzer" technology.
This Rouzer can be removed from the belt & used as a "brass knuckle" sort of weapon to enhance punches or inserted into the Heart Arrow to use it to scan Rouze Cards without transforming into the Undead.
See Also
Ad blocker interference detected!
Wikia is a free-to-use site that makes money from advertising. We have a modified experience for viewers using ad blockers

Wikia is not accessible if you've made further modifications. Remove the custom ad blocker rule(s) and the page will load as expected.